Social Anxiety Book: A Guide to 17 Science-Backed Psychotherapies
Living with Social Anxiety Disorder, or SAD, can be one of the major challenges in a person's life. This is true whether you are officially diagnosed, or simply experience severe social anxiety symptoms on a regular basis.
The most important step is to seek professional help, and most people who suffer from SAD never do so. Those who do seek help usually find one response: "Cognitive behavioral therapy (CBT) is the only effective treatment". 
However, many people treated with CBT do not improve, or therapy only yields very little results. This leaves the affected individuals in a state of helplessness, without hope for an alternative form of treatment. 
Fortunately, there are a variety of alternate approaches to the treatment of social anxiety disorder that have been proven effective.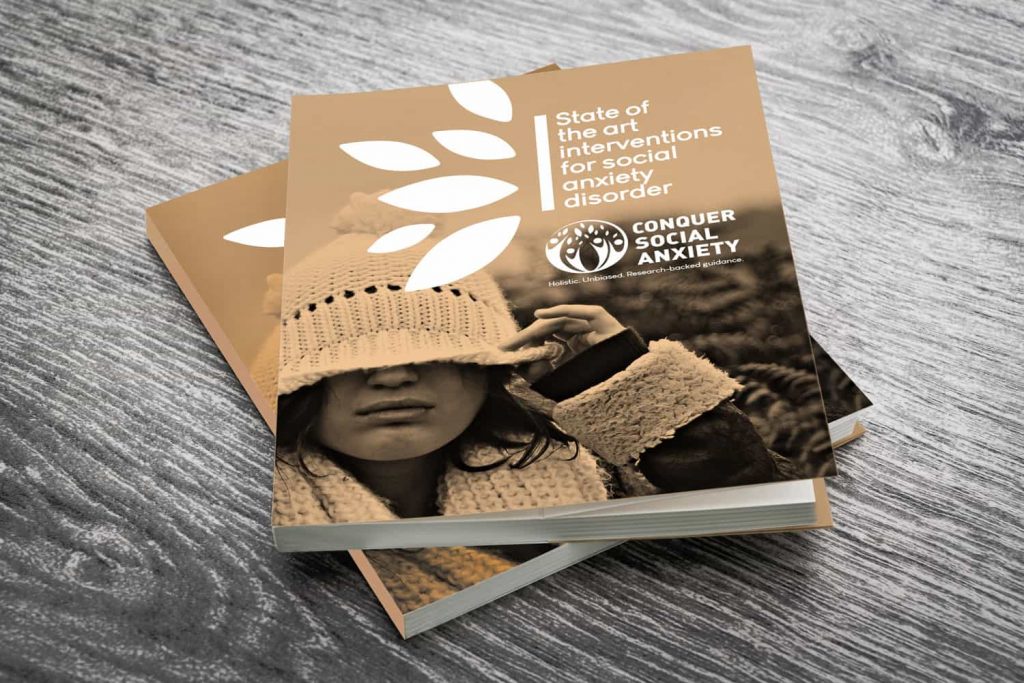 In our social anxiety book we dive into the scientific literature regarding the treatment of social anxiety disorder.
The last twenty years, and especially the last decade, have brought along promising alternatives for the standard treatment recommendation of cognitive behavior therapy (CBT).
While CBT is a valid and effective treatment approach for many people with social anxiety, it is not always the best option for everyone.
Additionally, recent developments in the field have led to important adjustments of standard treatment plans. The mindfulness wave, acceptance-based approaches and metacognitive considerations have all made important contributions and make effective treatment more likely.
We strongly believe that socially anxious people should be educated about the distinct psychotherapy approaches. That's why we have put together an eBook which summarizes the science-backed treatments for social anxiety and make it available for free to the public.
Check out our social anxiety book State of the Art Interventions for Social Anxiety Disorder, which covers 17 distinct approaches that have been proven to be effective treatments for SAD. It is based on the current scientific literature from different research teams all around the world.
In order to get your eBook, simply add your email address in the form below and hit the email option before submitting. You will be subscribed to our community newsletter which provides socially anxious people with newest developments, as well as videos and articles on how to overcome social anxiety disorder. You can opt out anytime.
Once you have submitted your request, the eBook will be sent to your email address. If you do not receive the email, make sure to check your spam folder as well as the "social" and "promotions" folders.
To learn more about therapy for social anxiety disorder, we strongly encourage you to read our section concerning the treatment of SAD. You can head over to that section by clicking below.
---
Share This Page