Social anxiety disorder (SAD) is characterized by an excessive fear of negative evaluation. Affected people usually crave approval, acceptance, as well as being seen and heard by others, while simultaneously dreading to be rejected and disapproved of.
This inner conflict often leads to a paradox – the enormous fear of being judged, which brings about the desire to reach out for help, is also the main reason why 80% of people with SAD never do so.
Online therapy for social anxiety disorder represents a major breakthrough in social anxiety treatment, especially because it lowers the psychological threshold for starting psychotherapy.
Online Therapy for Social Anxiety: A Breakthrough
People with social anxiety who are interested in starting a therapeutic process often find themselves faced with the following obstacles:
fear of exposing themselves and their vulnerabilities to a stranger

(Olfson et al., 2000)

shortage of professionals specializing in social anxiety disorder

(Mechanic, 2007)

large distances to possible treatment locations

(Mechanic, 2007)
Online therapy for social anxiety has the potential to solve these issues. The internet enables affected people to find professionals specializing in SAD and reach out to them. Additionally, access to the internet resolves any issues regarding physical distances to treatment locations.
The fear of negative evaluation implied in the process may be eased by the way of treatment delivery. Not having to sit face-to-face with the therapist is a comforting thought for many people with SAD.
Online therapy for social anxiety may be delivered in the following formats:
video calls
audio calls
voice chat
text chat
email
Depending on the particular situation of a given individual, one or another of these options may be the best fit. For those shying away from the upper options, treatment through text messaging is often a good start.
Throughout the last decades, research has revealed numerous effective treatment approaches for social anxiety. However, if affected people do not reach out for help, all these efforts are in vain. Online therapy for social anxiety is changing that. Hop on board!
Our Treatment Approach to Social Anxiety
If you have already poked around on our website, you might have noticed a couple of things regarding our philosophy and approach to SAD.
We do not advocate an easy and quick solution to overcoming social anxiety completely.
There are hundreds of research teams around the world who dedicate their waking hours to investigating effective treatment approaches. If there were a secret formula that cured people from SAD within days, researchers would take notice, run the necessary trials and make that knowledge available to the public.
With that said, we do believe that social anxiety disorder can be overcome. If approached in the right way, the social fears can usually be significantly reduced and life satisfaction builds up as a result.
Basic Principles & Assumptions
Social anxiety in lower intensities is not only normal, but even helpful when it comes to psychological health. The right magnitude helps us build satisfying, lasting relationships, strive at work, and feel interconnected. In short: social anxiety in lower intensities promotes our happiness. Therefore, we do not shoot for eliminating all social fears, but for reducing those that are excessive.
There is

no

one-size-fits-all approach. Social anxiety disorder is a serious condition and should be handled with great care, dedication and responsibility. Throughout the years, we have come to believe that combining the various approaches that have been proven effective, and choosing the right interventions in every individual case depending on the person's characteristics, improves the prospect of successful treatment.
While believing that long-term, in person psychotherapy is a very valuable experience for most people, we also consider that individuals with SAD can benefit considerably from short-term interventions. Identifying a person's main problem areas and providing practical, effective, and down to earth advice, usually helps to better manage social anxiety symptoms quite quickly.
Primary Treatment Goals
Regardless the treatment plan, we aim to identify each client's main problem areas, provide relevant and useful information concerning these issues, and develop a practical toolkit tailored to our clients' individual needs.
This personalized toolkit accompanies the client after treatment completion and can be seen as a custom-fit guide on how to live a life with less social anxiety.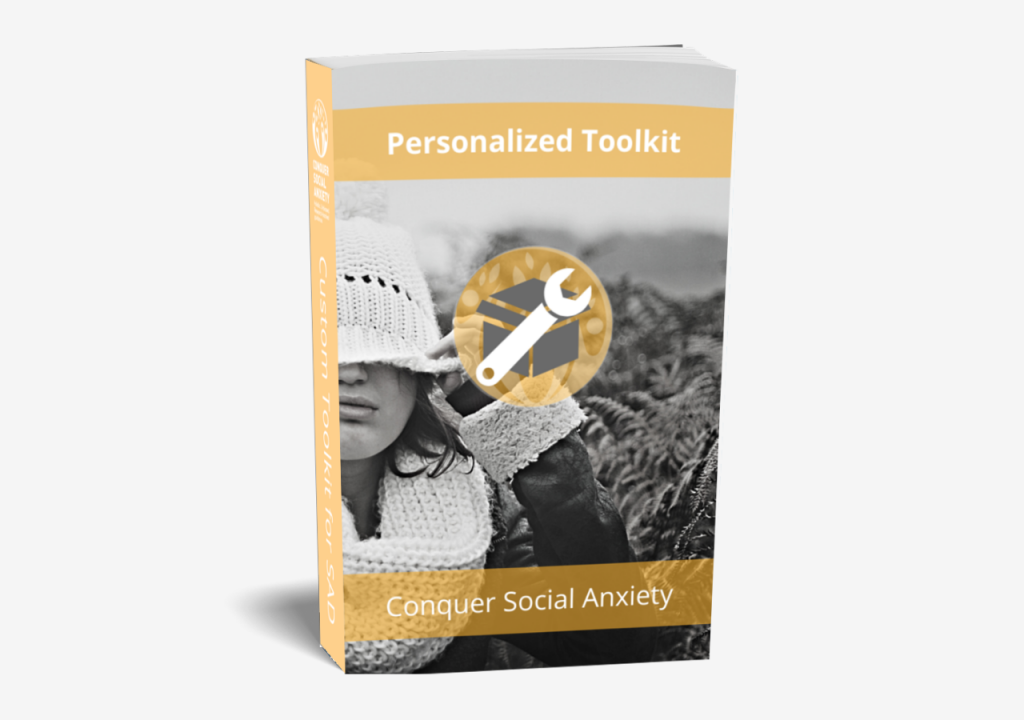 Unlike single sessions, our treatment packages allow for a more in-depth analysis of our clients' problem areas.
This provides the opportunity to take a closer look on cognitive processes, fields of interpersonal conflicts, and problematic mechanisms relating to the self. This usually makes any suggested interventions more accurate and effective.
Our treatment packages also include the setting of SMART goals, which besides its motivating effect enables the tracking of any progress (or stagnation) made throughout therapy and beyond.
Identifying and defining specific, realistic goals helps with breaking down SAD into achievable, smaller challenges.
Is Treatment Always Effective?
As with any psychotherapy, effectiveness of treatment can not be guaranteed. Whether or not treatment is effective depends on many variables. Some of the most important ones relate to the treatment approach, the therapist, and the person receiving therapy.
The treatment approaches applied by us have been shown to be effective in reducing social anxiety. We are not married to any specific branch of psychotherapy, which means we are flexible with our interventions and make them dependent on our clients' individual needs and characteristics. Mostly, we combine various effective approaches in order to maximize chances of successful treatment.
Our treatment sessions are carried out by Martin, founder of Conquer Social Anxiety. He is currently pursuing his Bachelor's of Science in Psychology with an emphasis in clinical psychology, which highlights ethical considerations regarding treatment. His dedication and compassion for those suffering from social anxiety are complemented by his ample theoretical and practical knowledge of the disorder.
In order to maximize the effects of treatment, we humbly ask our clients to thoroughly fill out the assigned questionnaires, comply with homework assignments, and repeat the discussed material. In order to achieve the desired changes, new habits need to be formed. Determination, perseverance, and courage on part of the client increase chances of successful treatment.
Treatment Plans: Single Sessions & Packages
If you are interested in conquering your social anxiety, be aware that we offer a free one-time 50-minute consultation. It serves as a solid starting point, as it allows you to get a glimpse of the dynamics of online therapy for social anxiety, and enables us to develop a personalized model of your SAD. The latter builds the base for further possible interventions.
If you have not already done so, head over to our section on free counseling and schedule your free session. It will help us determine whether or not we will be able to help you and come up with treatment suggestions.
If you have already received your free consultation and decide to keep working with us, please see the following options and see which one best fits your needs and possibilities.
Detailed Pre-Session
Questionnaire
60 min Consultation
(video-/voice-/text-chat)
Post-Session Analysis
with Action Steps
SMART-Goal
& Subgoal Setting
Practical Worksheets
According to Individual Needs
Personalized
Progress Booklet
4 Weeks Continued Email
Support After Completion
Video-Call Live Support
for Exposure Exercises
Additional PDFs
According to Situation
Detailed Pre-Treatment
Questionnaire
5x 60 min Consultation
(video-/voice-/text-chat)
4x Post-Session Analysis
with Action Steps
SMART-Goal
& Subgoal Setting
Practical Worksheets
According to Individual Needs
Personalized
Progress Booklet
4 Weeks Continued Email
Support After Completion
Video-Call Live Support
for Exposure Exercises
Additional PDFs
According to Situation
Detailed Pre-Treatment
Questionnaire
12x 60 min Consultation
(video-/voice-/text-chat)
11x Post-Session Analysis
with Action Steps
SMART-Goal
& Subgoal Setting
Practical Worksheets
According to Individual Needs
Personalized
Progress Booklet
4 Weeks Continued Email
Support After Completion
Video-Call Live Support
for Exposure Exercises
Additional PDFs
According to Situation
Detailed Pre-Treatment
Questionnaire
24x 60 min Consultation
(video-/voice-/text-chat)
23x Post-Session Analysis
with Action Steps
SMART-Goal
& Subgoal Setting
Practical Worksheets
According to Individual Needs
Personalized
Progress Booklet
4 Weeks Continued Email
Support After Completion

Video-Call Live Support
for Exposure Exercises
Additional PDFs
According to Situation
---
---
Share This Page