Whether it is your spouse, your child, or a student of a class you teach: it is heartbreaking to see how social anxiety can stop people from living their lives.
Given the nature of social phobia, affected people rarely ask for help. This makes it even more important that their loved ones learn how to support and accompany them in times of crisis and to look for long-term solutions.
So, how do you do this?
| Short Term Help | Long Term Help |
| --- | --- |
| Learn how to provide psychological first aid. | Assure the person of your continued support. |
| Teach & apply deep breathing techniques. | Encourage graded exposure to feared situations. |
| Introduce the person to mindfulness practice. | Identify & discuss suitable psychotherapy options. |
| Use role play to practice scary situations. | Accompany the person to treatment facility (if desired). |
Learn How to Provide Psychological First Aid
Psychological first aid is an early intervention technique which can be applied during moments of emotional crisis. It is used with people who are in shock or are acutely vulnerable.
In the case of social anxiety disorder (SAD), affected people may suffer panic attacks or similarly upsetting experiences. For example, a child that is laughed at by the whole class may experience acute trauma.
While the feelings and concerns may be hard to comprehend for non-affected people, it is important to meet the person in acute crisis with empathy and understanding.
Psychological first aid for socially anxious people consists of 10 simple steps and varies depending on the age range of the person.
To become a trained psychological first aid provider, check out our partners' resources at The National Child Traumatic Stress Network.
Teach & Apply Deep Breathing Techniques
Many people with SAD feel overwhelmed when their anxiety hits. Therefore, it is helpful to provide them with practical and easy-to-use tools to manage their fear.
Carried out in a specific way, our breathing can slow down the heart rate, reduce cortisol levels, and lower overall anxiety and stress (Brown and Gerbarg, 2005a,b; Anju et al., 2015; Stromberg, Russel, & Carlson, 2015; Ma et al., 2017; Zaccaro et al., 2018).
Diaphragmatic breathing, better known as deep breathing, is one such tool. It may be practiced regularly or on an as-needed basis before, during, and after a feared social situation.
There are many different deep breathing exercises that can help reduce anxiety in social situations.
One of them is the so-called box-breathing technique, which is especially helpful to help people manage stressful situations (Norelli, Long, & Krepps, 2020).
To carry out this technique, the affected person imagines a box with 4 equal parts, with each of them representing one of its steps.
It can be practiced before, during, or after a feared social situation and does not require a tranquil, stress free environment in order to work.
Inhale through the nose (4 seconds)
Hold breath (4 seconds)
Exhale through mouth or nose (4 seconds)
Hold breath (4 seconds)
This process is then repeated as needed and as it feels comfortable.
It is not recommended to engage in rapid, consecutive inhalations, as this increases the risk of hyperventilation and activates the sympathetic nervous system, which rather amplifies anxiety.
Note: While breath holding for short periods of time is often recommended and can help reduce anxiety, it may also lead to negative effects if the air is retained for too long (Krishnananda, 2009).
Introduce the Person to Mindfulness Practice
Socially anxious people usually try to suppress their anxiety or physical symptoms, which tends to intensify them.
Mindfulness teaches to observe and notice what is happening without the intention to alter the experience in any way.
It reduces our natural tendency to fight any unpleasant experiences. For this reason, it is a great intervention for socially anxious people.
But this is not the only reason why mindfulness meditation is an effective intervention for social anxiety.
Regular meditation practice has been shown to affect brain activity, as the prefrontal cortex becomes thicker and gains more influence over the amygdala, also referred to as the fear center of the brain.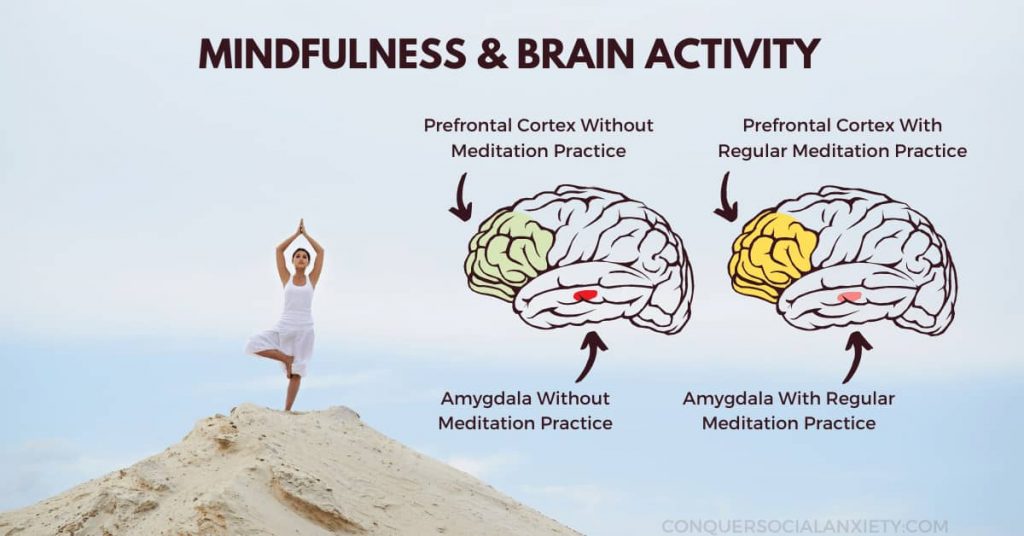 In stressful situations, the brain is then more likely to remain calm and not overreact.
Numerous studies have reported good effectiveness for mindfulness-based interventions applied to social anxiety (Bögels, Sijbers, & Voncken, 2006; Koszycki, Benger, Shlik, & Bradwejn, 2007; Piet, Hougaard, Hecksher, & Rosenberg, 2010).
Introducing a socially anxious person to mindfulness and encouraging them to start practicing it regularly is a helpful short and long-term strategy.
Use Role Play to Practice Scary Situations
Another great way to help a person with social anxiety is to recreate the situations they fear and practice them through role play.
For example, a child afraid of giving a presentation in front of their class can greatly benefit from practicing public speaking with their parents or extended family.
A spouse afraid of confrontation with their boss may want to practice this scenario with you at home, and so on.
Playing these situations through repeatedly can build confidence to face them in real life and provide opportunities to learn how to handle different outcomes.
Assure the Person of Your Continued Support
For more serious cases of SAD, extended effort, commitment, and professional help are often necessary. With time, most people can significantly reduce their social anxiety.
However, the path to getting better can be hard and often contains obstacles and setbacks. Letting the person know that they are not alone in this and that you will keep supporting them can help reduce despair.
Social anxiety is characterized by the fear of being judged, rejected, and eventually left alone. Letting the person know that they can count on you, no matter what, addresses and disconfirms their deep rooted concern.
Encourage Graded Exposure to Feared Situations
Most people with SAD naturally avoid the social situations they fear. While this strategy may successfully prevent uncomfortable feelings on the short run, it maintains and increases social anxiety with time.
Any effective intervention for social anxiety attempts to break this vicious cycle of avoidance in some way. This is done by seeking exposure.
Exposure to the feared situations is highly effective for most people with social anxiety (Alström, Nordlund, Persson, Hårding, & Ljungqvist, 1984; Turner, Beidel, & Jacob, 1994).
However, pushing a person to expose themselves to feared situations can be wrong. It should be encouraged, but not forced.
Also, most experts recommend graded exposure. A person afraid of public speaking may want to practice in front of a small group before increasing the size of the audience gradually.
If exposure is no option, the help of a qualified professional may be warranted.
Identify & Discuss Suitable Psychotherapy Options
Despite numerous effective treatment options, only 20% of people with social anxiety disorder ever receive professional help (Grant et al., 2005).
If there were only one single thing you could do to help a socially anxious person, it would be to encourage them to start psychotherapy.
To make this process as easy as possible, you may want to identify viable treatment options and gather information regarding their approach to SAD.
We have written a complete treatment guide to help with this process.
Among the most effective and commonly applied therapies are:
Once you are informed, discuss the options with the affected person.
Accompany the Person to the Treatment Facility
This last recommendation is not going to apply to everyone. Some people may prefer reaching out for help on their own, let alone going to their first therapy session.
However, in many cases it can be helpful to accompany the affected person to the treatment facility.
It is not only a nice gesture, but reassures the person of your continued support and dedication to help them get through this.
---
---
Share & Follow